Dash of de Dash coin stond oorspronkelijk bekend als Darkcoin en was ontworpen om de privacy en anonimiteit van de gebruiker te waarborgen. De whitepaper van de cryptocurrency, mede geschreven door Evan Duffield en Daniel Diaz, beschrijft het als "de eerste privacy-gerichte cryptografische valuta", gebaseerd op het werk van Nakamoto. Evan Duffield kwam in 2010 in aanraking met Bitcoin en was onder de indruk van de technologie. Maar hij realiseerde zich al snel dat Bitcoin niet privé en snel genoeg was.
Hij had veel ideeën over hoe hij Bitcoin anoniem kon maken, maar hij wist dat de ontwikkelaars van Bitcoin hem dat niet zouden toestaan, omdat de code van de kern hiervoor veranderd zou moeten worden. Hoewel het nog steeds sterke versleuteling functies heeft, heeft Dash sindsdien zijn ambities herzien. Het project wil nu een medium voor dagelijkse transacties worden. "Dash is Digital Cash dat je overal kunt uitgeven", zegt de website. De verschuiving in focus heeft het project goed gedaan.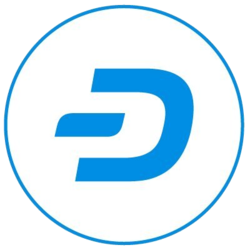 Dash (DASH)
Price
Dash heeft een Totale voorraad van 18 miljoen munten, wat betekent dat er maar 18 miljoen coins ooit gemaakt zal worden. De gemiddelde blok mining tijd is 2,5 minuten, wat 4 keer sneller is dan bitcoin (~10 minuten blok mining tijd). Dash heeft ook een variabele blokbeloning die elk jaar met 7,1% afneemt.
Houd uw betalingen privé zodat niemand u kan volgen, uw transacties en saldi zijn niemands zaken. Met Dash's vooruitstrevende anonimisering heeft alleen u toegang tot uw financiële informatie.
Dash maakt gebruik van de kracht van zijn Masternode netwerk om een innovatieve technologie aan te drijven die InstantX heet. Bij het verzenden van geld kunnen gebruikers de "Gebruik InstantX" box in hun portemonnee selecteren, en transacties zullen volledig worden verzonden en onomkeerbaar zijn binnen vier seconden.
Geavanceerde encryptie en een vertrouwenloos protocol voor volledige veiligheid in uw betalingen en voor uw anonimiteit.
U kunt overal ter wereld geld sturen met dezelfde lage kosten en dezelfde snelheid als wanneer u geld naar de buren zou sturen!
De meeste transacties kosten slechts een paar cent om te versturen, wat aanzienlijk goedkoper is dan diensten als Western Union, PayPal of Moneygram.
Bereken hoeveel Dash je krijgt voor je euro's