Specificaties voor Ethereum Classic?
Ethereum Classic is een open-source, peer-to-peer, computerplatform gebaseerd op blockchain technologie en de originele Ethereum code. Net als Ethereum biedt het een waarde token, of "altcoin", genaamd "klassieke ether", die wordt gebruikt om gebruikers te betalen voor producten en diensten, en ook voor een transitievergoeding bij het gebruik van gedecentraliseerde apps en slimme contracten.
Het verhaal achter de Ethereum hardfork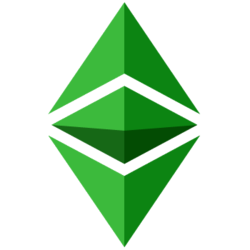 Ethereum Classic (ETC)
Price
De gedecentraliseerde autonome organisatie (de DAO) was een risicokapitaalfonds dat op het Ethereum-platform was gebouwd. Het was bedoeld om gebruikers te laten investeren in de ontwikkeling van gedecentraliseerde apps die op de blockchain van het Ethereum kunnen draaien. In mei 2016 had The DAO meer dan 150 miljoen dollar verzameld en was het klaar om zijn activiteiten te beginnen. Toen kwam er een document uit met een beveiligingsfout in de DAO-architectuur. Ontwikkelaars van The DAO negeerden deze en gingen verder met hun operaties. In juni 2016 werd The DAO gehackt met behulp van dezelfde beveiligingsfouten die in het document werd beschreven en er werd ongeveer 50 miljoen dollar gestolen. Deze hack en het debat dat daarop volgde veroorzaakte een breuk in de Ethereum gemeenschap. Aan de ene kant konden de Ethereum-ontwikkelaars de hack terugdraaien en alle Ether-munten teruggeven aan hun respectievelijke eigenaren. Aan de andere kant is de kern filosofie van cryptocurrency dat de transacties niet kunnen worden bewerkt en niet kunnen worden verwijderd. Als gevolg daarvan onderging Ethereum een hardfork, het kopiëren en wijzigen van de hoofdcode om de DAO-hack terug te draaien. Ondertussen bleef de hoofdcode ongewijzigd en begon de gemeenschap het "Ethereum Classic" te noemen. Sindsdien werken Ethereum en Ethereum Classic als aparte munten, terwijl ze dezelfde doelen en visie delen: het eerste gedecentraliseerde computerplatform ter wereld worden.
Ethereum Classic is niet zonder problemen, omdat het door velen als een mindere vork van Ethereum wordt beschouwd. De grootste zorg die gebruikers en investeerders hebben is dat de "Ethereum Classic vs Ethereum"-situatie heeft gezorgd voor wat velen een dubbele blockchain hebben genoemd. In zekere zin zijn zowel de Ethereum Classic als de Ethereum blockchains met elkaar verenigbaar omdat ze uit dezelfde stam zijn geboren.
Hierdoor kan men met behulp van een Ethereum-portemonnee proberen toegang te krijgen tot de Ethereum Classic-blockchain en dit kan problemen opleveren. Zo is het mogelijk dat openbare portemonnee-adressen niet aan dezelfde gebruiker in de ene keten behoren als in de andere. Dit veroorzaakt verwarring en is nadelig voor zowel Ethereum Classic als Ethereum zelf. Veel gebruikers van Ethereum zijn namelijk van mening dat Ethereum Classic vernietigd moet worden ten voordele van beide platformen. Dit heeft als zodanig veel volatiliteit veroorzaakt in de waarde van ETC en dit zal waarschijnlijk zo blijven, tenzij er een overeenkomst kan worden bereikt tussen beide helften van de gemeenschap.
Bereken hoeveel Ethereum Classic je krijgt voor je euro's