IOTA staat voor Internet of Things Application en is een cryptotechnologie die transacties tussen apparaten op het Internet of Things (IoT) vergemakkelijkt. IOTA pakt de transactiekosten en de schaalbaarheidsproblemen van blockchain technologieën aan door zich te ontdoen van het blok en de keten. In plaats daarvan moet u, om een transactie aan het IOTA grootboek te kunnen voorleggen, twee andere eerdere transacties controleren.
Deze methode van verificatie betekent dat er geen centraal grootboek is en dat er geen miners nodig zijn om het netwerk aan te drijven. Omdat de apparaten op het netwerk elkaars transacties willekeurig verifiëren, bouwen ze consensus op via het web van verbindingen tussen transacties. In de cryptografie staat dit type verificatie bekend als Directed Acyclic Graph (DAG), maar de makers van IOTA noemen het de Tangle. Aangezien de rekenkracht in de Tangle groeit naarmate het netwerk groeit, belooft IOTA vrije, snelle transacties. Het is ook ontworpen om micro-betalingen en betalingen tussen machines te verwerken, waardoor een hele machine-to-machine micro-economie mogelijk wordt.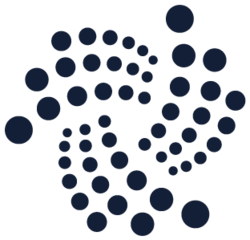 IOTA (IOTA)
Price
Hoe werkt de Internet Of Things Applicatie?
Het internet van dingen (IOT) is nu al een belangrijke kracht in de wereldeconomie. Bedrijven maken camera's, sensoren en andere apparaten om de omstandigheden in fabrieken, scheepvaartroutes, boerderijen, winkels en huizen te monitoren. Volgens onderzoek van Gartner is het in 2017 gegroeid tot 8,4 miljard apparaten, en de vooruitzichten voor toekomstige groei zijn exponentieel. De oprichters van IOTA zijn het bedrijf begonnen nadat ze in de IOT-industrie hadden gewerkt, en ze stellen dat de apparaten in het netwerk zo efficiënt mogelijk moeten worden gedeeld en toegewezen om het IOT zo nuttig mogelijk te laten zijn. De visie van IOTA is om het platform te zijn voor machine-to-machine (M2M) transacties. Dit betekent dat de apparaten in staat moeten zijn om meer elektriciteit, bandbreedte, opslag of gegevens te kopen wanneer ze die nodig hebben, en die middelen te verkopen wanneer ze die niet nodig hebben.
Zelfs op een klein netwerk betekent dit dat er mogelijk tientallen transacties per seconde plaatsvinden als apparaten communiceren en middelen gebruiken. Met zoveel transacties, op zo'n kleine, snelle schaal, geloven de oprichters van IOTA dat de blockchain technologie niet geschikt is voor IOT-toepassingen. Blockchain netwerken worstelen met schaalbaarheid, en ze nemen vaak hun toevlucht tot het in rekening brengen van kosten om de miners in staat te stellen uw transactie eerder in een blok op te nemen. IOTA wil met haar nieuwe netwerk zowel de schaalbaarheid als de kosten oplossen, zodat miljarden IOT-apparaten er gebruik van kunnen maken.
Het netwerk is in 2015 via crowdsale gelanceerd en wordt nu ontwikkeld en ondersteund door de IOTA Foundation, een Duitse non-profitorganisatie. David Sønstebø en Dominik Schiener leiden de stichting als medevoorzitters van de raad van bestuur. De rest van het managementteam bestaat uit de oprichter van Nxt, Volkswagon Chief Digital Officer, Fujitsu Head of Central Europe, en verschillende experts in een breed scala aan industrieën. Het 50+ leden tellende team heeft sinds de lancering van het platform gestaag vooruitgang geboekt. Een van de belangrijkste releases in het afgelopen jaar was die van de Data Marketplace eind 2017. De marktplaats maakt gebruik van de technologie van IOTA om de opslag en verkoop van datastromen te vergemakkelijken. Er zijn al verschillende opmerkelijke bedrijven, zoals Accenture en Bosch, die deelnemen aan het netwerk.
Het team is onlangs ook begonnen met het werken aan slimme stadstechnologie voor Europa en andere delen van de wereld. Deze technologie zal onder meer bestaan uit biometrische palmmetingen die gekoppeld zijn aan digitale identiteiten en de combinatie van apparaten voor het internet van de dingen in de stad met de Tangle.
Bereken hoeveel IOTA je krijgt voor je euro's