Specificaties voor Litecoin?
Litecoin is een peer-to-peer cryptocurrency. Het is een open-source softwareproject dat onder de MIT/X11-licentie is uitgebracht. Litecoin is in veel opzichten vergelijkbaar met Bitcoin, omdat het ook beschouwd wordt als een digitale valuta en een digitaal betaalsysteem. Daarnaast worden Litecoin-encryptietechnieken gebruikt voor twee cruciale functies: Om de productie van Litecoin te reguleren Om de overdracht van middelen te controleren en om de transacties te beveiligen Litecoin omschrijven ze in veel gevallen als het kleine broertje van Bitcoin.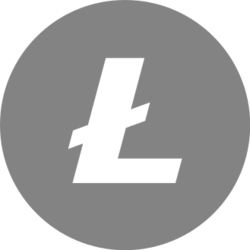 Litecoin (LTC)
Price
Litecoin is een online netwerk dat mensen kunnen gebruiken om betalingen van de ene persoon naar de andere te sturen. Litecoin is peer-to-peer en gedecentraliseerd, wat betekent dat het niet wordt gecontroleerd door een entiteit of overheid. Het betalingssysteem handelt niet in fysieke valuta, zoals de Dollar of de Euro, maar gebruikt een eigen rekeneenheid, die ook wel Litecoin wordt genoemd (symbool: Ł of LTC). Daarom ziet u Litecoin vaak gecategoriseerd als een virtuele valuta of digitale valuta. Litecoin kan voor traditioneel geld gekocht en verkocht worden op verschillende beurzen die online beschikbaar zijn.
Waar is Litecoin op gebaseerd?
Litecoin is gebaseerd op blockchain technologie, hetzelfde als Bitcoin. Volgens Litecoin zelf is de Litecoin blockchain "in staat om een hoger aantal transacties te verwerken dan zijn tegenhanger - Bitcoin". Litecoin heeft een hogere frequentie van blockgeneratie, wat betekent dat het netwerk meer transacties ondersteunt en profiteert van snellere bevestigingstijden. Deze Litecoins worden op het netwerk gegenereerd door mining
Er worden regelmatig nieuwe Litecoins gemaakt. De creatie van nieuwe munten wordt afgerond via een speciaal proces dat bekend staat als 'mining', wat eenvoudigweg een registratiedienst is. Litecoin zorgt ervoor dat er slechts één blockchain is door blokken te maken die echt moeilijk te produceren zijn. In plaats van simpelweg blokken te produceren, moeten de miners (mijnwerkers) een cryptografische hash van het blok maken die aan bepaalde criteria voldoet. De enige manier om er een te vinden is door er veel van te berekenen, totdat je geluk hebt en het blok vindt dat werkt. Dit proces wordt 'hashing' genoemd. De miner (mijnwerker) die met succes een blok creëert, wordt beloond met Litecoins. Om de paar dagen wordt de moeilijkheidsgraad van de criteria voor de hash aangepast op basis van hoe vaak de blokken verschijnen. Meer concurrentie tussen de mijnwerkers staat gelijk aan meer moeite om een blok te vinden.
Wanneer is Litecoin ontstaan?
Men zegt dat Litecoin op 7 oktober 2011 is uitgebracht door Charlie Lee, een voormalig medewerker van Google. Het was een splitsing van de Bitcoin Core client, die vooral verschilde door een verminderde blokgeneratietijd (2,5 minuten), een verhoogd maximum aantal munten, een ander hashingalgoritme en een licht gewijzigde GUI.
Bereken hoeveel Litecoin je krijgt voor je euro's