Specificaties voor ZCASH?
Zcash is een openbare gecodeerde blockchain en ook een wetenschappelijke doorbraak in de cryptografie. Dit komt door het gebruik van zero-knowledge cryptografie beter gekend als zk-SNARKS. Dit raamwerk stelt de gebruiker in staat om twee adressen te gebruiken: een volledig privé en een transparant (vergelijkbaar met Bitcoin). De twee aanpasbare modi, afgeschermd en transparant, maken het mogelijk om uw transactie volledig anoniem of openbaar te bekijken.
Zcash is belangrijk omdat het een veilige transportlaag biedt voor uw gegevens (en uiteindelijk identiteit). Het is het HTTP van geld. zk-SNARKs zijn een wetenschappelijke doorbraak in de cryptografie die het mogelijk maken om een actie te bewijzen zonder dat je alle details van de specifieke actie hoeft te onthullen. Vóór zk-SNARKs zou iemand de door u gebruikte inputs opnieuw moeten maken en testen. Zero-knowledge Succinct Non-interactive Arguments of Knowledge (zk-SNARKs) zijn wiskundige bewijs constructies die ervoor zorgen dat alle informatie (afzender, ontvanger en bedrag) gecodeerd is, terwijl ook het voorkomen van dubbele uitgaven (een kritisch element voor een succesvolle cryptocurrency-architectuur). Het kwam tot stand in 1980 dankzij het werk van MIT-onderzoekers Shafi Goldwasser, Silvio Micali en Charles Rackoff. Zij werkten aan problemen in verband met interactieve bewijzensystemen, waarbij een Prover berichten uitwisselt met een Verifier (later meer over provers en verificateurs) om hen ervan te overtuigen dat ze kennis hebben van een bepaald bewijs, zonder te verklaren wat die kennis is.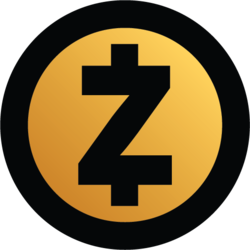 Zcash (ZEC)
Price
Het Zcash-team is een allegaartje van wetenschappers, ingenieurs, ontwerpers en zakelijke profs uit de hele wereld. Hun cv's omvatten MIT, Johns Hopkins en Tel Aviv University. Er was geen crowd sale of ICO voor Zcash maar eerder privé-investeringen van gerenommeerde personen zoals Naval Ravikant (oprichter van de engelenlijst), Roger Ver (vroege Bitcoin-investeerder), Erik Voorhees (oprichter van Shapeshift), Barry Silbert (oprichter van de Digital Currency Council) en Fred Ehrsam (oprichter van Coinbase).
Zcash is een blockchain en cryptocurrency ontwikkeld om bitcoin's privacy fouten te overwinnen. Omdat het gebruik maakt van nul-kennis bewijzen om transacties te verifiëren en te valideren, heeft Zcash's blockchain praktisch nut voor bedrijven en grote organisaties die geïnteresseerd zijn in systemen die de voordelen van blockchain technologie combineren met privacy.
Veiligste, maar tevens moeilijkst te gebruiken, portemonnee optie is de Linux command line client, zcashd. U moet deze portemonnee echter alleen gebruiken als u vertrouwd bent met computers en ervaring hebt met command line interfaces. De Zcash Foundation heeft ook een desktop-portemonnee uitgebracht voor Linux, Windows en Mac-besturingssystemen. Daarnaast ondersteunen Jaxx en Exodus ook ZEC. Als je de voorkeur geeft aan hardware-portemonnees, heb je geluk. Grootboek en Trezor hebben beide ondersteuning voor ZEC.
Bereken hoeveel ZCASH je krijgt voor je euro's